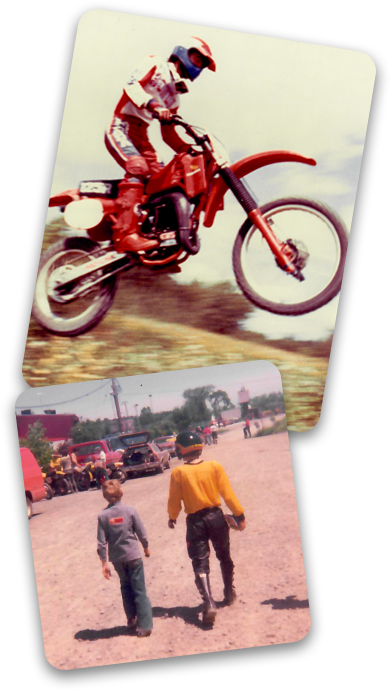 FROM A VERY
EARLY AGE,
I WAS DRAWN TO MORE
THAN JUST CARS
I got my first motorbike at the age of 12. It was a Yamaha 60 cc that my brother Marius and I bought together. Then I got a brand-new Gitane when I was 13. This was followed by several other bikes, which allowed us to learn basic motorcycle mechanics and maintenance – a welcome activity for teens at a time when Nintendo didn't exist.
I was 15 when Marius took me to a motocross event in Prévost in the Laurentians (Vallons Forestiers, to be precise). This seemed to me like the ultimate two-wheel experience. As a result of this revelation, I began to dream of becoming a motocross rider – an extremely physically demanding occupation. At 16, being already on the job market, I asked my father to sign an authorization that would allow me to get my Canadian Motorcycle Association licence. He refused, and I had to wait until I was 18 to get the licence I'd been yearning for.
My birthday…
La journée de ma fête…
To celebrate my 18th birthday, I went to Alary Sport, a store I knew well because that was where we always bought our motorbike parts. I knew they had the bike I wanted in stock: a YZ 125 racing motorbike. It was an easy sale for Mr. Alary because we got along so well. I also needed to get equipment and my licence, but these were just details on my way to pursuing this great adventure, with races held all over the province. I also had to acquire a trailer, which I bought second-hand at a good price.
Do you know what kind of vehicle I hitched my trailer to? It was a 1969 Cadillac convertible that I had trouble keeping dust-free. The following year, I used my 1971 Candy red Buick Riviera because the races were held on Saturdays, and during the summer the Caddy was used for weddings, which were also held on Saturdays. I would leave the Cadillac with a friend, who drove brides, grooms, and newlyweds around and enjoyed use of the car all weekend long. Other motocross riders got a whoop out of my cars since most of them got around in a pickup truck or an El Camino. To share the high costs of racing, I partnered with a friend, Marc-André Bigras, who was also a good rider and a daredevil, too. He didn't own a trailer, so we were both happy with this arrangement.

Motocross school
In order to improve my performance on the track, I enrolled at two motorcycle riding schools: the Honda school in Saint Jérôme and the Can-Am-sponsored program (a weekend course with accommodations) in Cowansville. The Can-Am course instructors were true pros, including Charles Désourdy, the late Gérald Kimpton, Christain Éthier, and few others whose names I can't recall at the moment. I can tell you that Charles Désourdy was the John Daily of motocross, a bit plump with an endearing personality. He was a spectacular rider – very fast and very talented. I learned a lot from him, even if I didn't attend all of his Sunday practices. I raced in the same era as the brothers Gaby and Serge Grégoire of Joliette, Mario Paquette of Saint-Jérôme, and Ross Peterson, who competed in three classes: 125 cc, 250 cc, and open. I also remember Arnaud Bernard who was just starting out and who became one of the best a few years later. Let me tell you that to race in three different classes, you have to be in super physical shape since this is one of the most physically demanding sports in terms of cardio and endurance. After a few years and many bikes, including a Yamaha YZ, a Kawasaki KX, and mainly a Honda CR, I walked away with my head held high and without major injury. I have very special memories of my time in this sport that I loved so much.
My post-racing career…
In 1987, I became a damage estimator. My motorbike experience was enormously valuable in this capacity since my supervisors at the time entrusted me with assessing motorcycle damage. As a result, I have a great deal of knowledge in this particular niche, allowing me to evaluate any kind of vintage or modified motorcycle.
An important fact you need to know…
Appraisers who work for PG Évaluation inspect the machines, make note of their serial numbers, and check the condition of every one of their parts. The findings are then sent to our head office, where I complete the reports by adding extras and modifications along with details and the right terms.
Keep in mind that no other firm has as much specialized know-how as PG Évaluation. Go with PG – two letters that spell prestige in our field!